Posted on July 09, 2012 by alex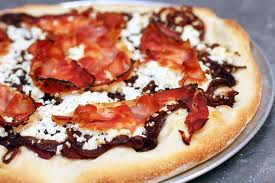 Ingredients:
For crust:
1 head cauliflower
1 egg 3/4 cup
shredded low-fat sharp cheddar or mozzarella cheese
1 teaspoon of garlic powder
For toppings:
1/2 of a 10-oz can of Hunts tomato sauce
3/4 cup low fat mozzarella cheese
Optional toppings:
Turkey pepperoni
1/4 cup chopped red onion
Banana pepper rings or sliced jalapenos
3 slices of prosciutto or capacola ham Capers, mushrooms, peppers, sausage, etc.
Preparation For crust:
Cut up the whole head of cauliflower and put into a food processor, pulsing until it becomes the consistency of grits. Cook the cauliflower in a microwave safe dish for 5 minutes on high. Let it cool.
Press the cauliflower with a paper towel to remove as much moisture as possible. Measure out 1 cup of the cauliflower mixture (reserve the rest for another pizza crust).
In a separate bowl beat the egg. Add the cauliflower, cheese and garlic powder and mix together. Press it out into a round pizza stone. Cook in the oven for 15 to 18 minutes until golden to dark brown depending on how you like the crust. Take out and put toppings on.
For topping:
Cook the prosciutto or capacola on the stove top until crispy. Drain off excess grease and put to the side. Add the sauce, toppings (except prosciutto or capacola) and cheese. Top with prosciutto or capacola. Put the pizza back in the oven for approximately 10 to 15 minutes, but remove when cheese is brown and bubbly. Cut into 8 slices.
Nutrition information 2 slices plain cheese pizza (no toppings) Calories: 160 Total fat: 8 g Saturated fat: 3.5 g Cholesterol: 65 mg Sodium: 495 mg Total carbohydrate: 5 g Dietary fiber: 1 g Protein: 15 g
Serving Size Makes 4 servings.
The New Abs Diet Cookbook: Hundreds of Delicious Meals That Automatically Strip Away Belly Fat!
A delicious follow-up to the groundbreaking The Abs Diet, this cookbook delivers more than 200 healthy, mouthwatering breakfasts, lunches, dinners, sn... Read More >
Skinny Sandwiches/over 130 Low-Fat Sandwich Creations from Vietnamese Spring Rolls and Vegetable Tostadas to Lobster Puffs and Salsa Dogs: Over 130 ... Lobster Puffs, Banana Burros to Reuben Pizzas
Protidiet High Protein Pizza Tomato Sauce (7 Servings)
Pre-heat your oven to 350, add water to mix the dough, mix and add your sauce, sprinkle with some low fat mozzarella cheese and add any topping of your choice. Wait 15 minutes and you have a mouth watering pizza. Only 100 calories, 15 grams of protein and 12 grams of carbs.