Posted on May 22, 2011 by Grace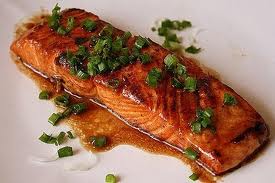 We use skin on salmon fillets to help us get the caramelized fish off the grill after cooking.  When the skin sticks, the fish separates from it and lifts off easily.  If you like to eat the salmon skin, simply use a spatula to remove it from the grill plate.
Ingredients:
3 tsp. packed dark brown sugar
2 tbsp. orange juice
1 1/2 tsp. smoked paprika
1/4 tsp. crushed red pepper
4 pieces center cut, skin on salmon fillet (6 oz each)
Directions:
Prepare outdoor grill for direct grilling on medium.
In a small bowl, stir sugar, juice, paprika, cumin, and red pepper until sugar dissolves.
Sprinkle 1/4 teaspoon salt and 1/2 teaspoon freshly ground pepper on flesh side of salmon.
Grill salmon, skin side up, 4 minutes, then carefully turn salmon over.
Brush sugar mixture over salmon.  Cook 4 to 5 minutes longer or until fish just turns opaque throughout, continuously brushing sugar mixture over salmon.
Carefully remove salmon from grill by sliding long, thin spatula between flesh and skin. Discard skin.
Each Serving:
about 320 calories, 39 grams of protein, 12 grams of carbohydrate, 13 grams total fat, 235 mg sodium.
Product Recommendations
Zuke's Mini Naturals Dog Treats, Savory Salmon Recipe, 16-Ounce
Dogs of all shapes and sizes love treats - the more, the better! Mini Naturals are the ideal size for frequent rewards without overfeeding. At just tw... Read More >
Wellness CORE Natural Grain Free Dry Cat Food, Fish and Fowl Recipe, 12-Pound Bag
The essence of the raw feeding philosophy is nutrient-rich, high-quality meat -- and lots of it! That's the same philosophy behind Wellness CORE. But ... Read More >