Posted on May 10, 2012 by alex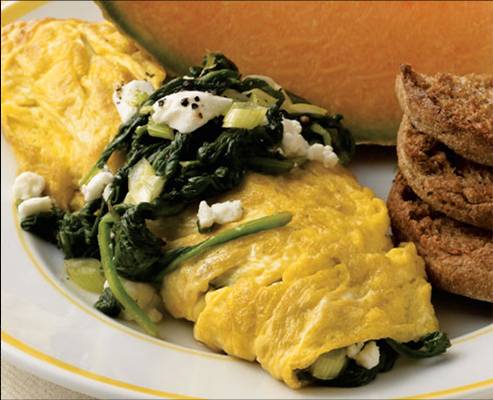 Healthy Low Calorie Spinach 'n' Goat Cheese Omelet.
Have a Tasty Healthy Low Calorie Breakfast: Enjoy!
INGREDIENTS:
2 cups baby spinach, rinsed
2 tablespoons crumbled goat cheese or feta cheese
1 tablespoon chopped scallion
1 large egg
2 large egg whites
1/4 teaspoon hot red pepper sauce, such as Tabasco
Pinch of salt
Pinch of freshly ground black pepper
1 teaspoon olive oil
Directions:
1. Bring about 1 inch (2.5 centimeters) of water to a boil in a large saucepan. Drop in spinach and cook just until wilted, about 30 seconds. Drain, press out liquid and chop coarsely. (Alternatively, place spinach in a microwave-safe bowl, cover with vented plastic wrap, and microwave on high for 1 to 2 minutes.)
Place the spinach in a small bowl. Stir in the cheese and scallion.
2. Blend egg, egg whites, hot sauce, salt, and pepper briskly with a fork in a medium bowl. Heat oil in a 7- to 10-inch (18- to 25-centimeter) nonstick skillet over medium-high heat until hot. Tilt the skillet to
swirl oil over surface. Pour in egg mixture. Immediately stir egg mixture with heat-resistant rubber spatula or fork for a few seconds. Then use spatula to push cooked portions at edges toward the center, tilting the skillet to allow uncooked egg mixture to fill in areas around edges. Sprinkle spinach mixture over the omelet. Continue to cook until almostset, and the bottom is golden. The entire cooking process should take about 1 minute.
3. Use a spatula to fold one-third of the omelet over the filling. Tip the skillet and, using spatula as a guide, slide the omelet onto a plate so that it lands, folded in thirds, seam-side down.
Makes 4 servings. Per serving: 235 cal
15 g fat (6 g sat. fat), 471 g sodium, 4 g carbs, 1 g fiber, 20 g protein
EASY PREP: Prep: 3 min Cook: 2 min
---
Tags: breakfast, Breakfast Recipes, diet breakfast meals, diet meals breakfast, healthy diet breakfast, low calorie Spinach and Goat Cheese Omelet, Spinach and Goat Cheese Omelet
Category Breakfast Recipes
You can skip to the end and leave a response. Pinging is currently not allowed.