Posted on April 03, 2014 by alex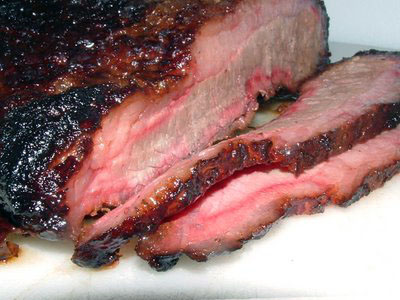 Ingredients:
3 Tbs. ground pepper
3 Tbs. firmly packed light brown sugar
3 Tbs paprika
3 Tbs. onion powder
2 Tbs. coarse salt
2 Tbs. granulated garlic
2 Tbs. dry mustard
1 Tbs. ground cumin
1 Tbs chile powder
5-7 lb. whole beef brisket, trimmed
5 lbs. mesquite wood chips, soaked in water for 30 minutes
basic barbecue sauce
Directions:
1. For rub, combine first 10 ingredients in food processor. Process into a coarse mix.
2. Season brisket all over with half of rub, massaging into meat. Wrap brisket in plastic; refrigerate for at least 1 hour or up to overnight. Remove from refrigerator 30 minutes before grilling.
3. Prepare grill for indirect grilling over medium-low heat. brush and oil grill grate. Unwrap brisket, season with remaining rub; place fat side up in large, disposable foil roasting pan.
4. Gas Grill: Raise a burner to high heat. Heat smoker box half full of wood chips until smoking; reduce heat to medium-low. Place roasting pan with brisket on grill grate over area of lower heat; cover. Charcoal grill: Sprinkle half of soaked wood chips over coals. Place roasting pan with brisket on grill grate toward side of grill where heat is less intense; cover.
5. Grill brisket, basting with any accumulated juices, until mahogany brown, 3 1/2-4 hours. Replenish wood chips and coals (if charcoal grilling) every 30 minutes.
6. Transfer brisket to cutting board; tent with foil. Let rest 10 minutes. Slice meat. Serve with barbecue sauce.
Basic Barbecue Sauce Recipe:
In pot over medium heat, melt 2 Tbs. unsalted butter with 2 tbs. oil. Add 1/2 cup diced sweet onion, 2 Tbs. water, salt and pepper: Cover: cook, stirring often, until onions are soft, 5-7 minutes. Stir in 2 Tbs. light brown sugar and 1 tsp. each chilli powder and ground cumin; stir 1 1/2 cups ketchup, 1/2 cup prepared barbecue sauce, 2 Tbs. molasses and 1 Tbs. Worcestershire sauce; cook 15 minutes. Puree. Taste; adjust seasoning. Use at once or cover and refrigerate up to 1 week. Makes 2 cups.
Product Recommendations
Tasty Bite Jodhpur Lentils Heat & Eat Entree, 10 Ounce Pouches (Pack of 6)
Smooth yellow lentils flavored with cumin, turmeric and chilies. 90 Seconds Heat and Eat, no cooking. Tasty Bite products come in a unique smart pouch... Read More >
The Doctor's Diet: Dr. Travis Stork's STAT Program to Help You Lose Weight & Restore Your Health
The Doctor's Diet is the cure to unhealthy eating — an American epidemic with a death toll higher than that of car accidents, drug abuse, smoking, ... Read More >