Posted on September 25, 2014 by Grace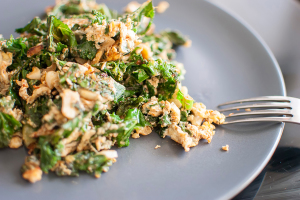 Breakfast tip: hash browns potatoes are a faster alternative to regular potatoes, with crisp and delicious results. Try this delicious breakfast delight it;s pretty easy to prepare and very nutritious and low in calories.
Ingredients:
2 tbsp olive oil
1 large onion, thinly sliced
Kosher salt and pepper
10 large eggs
2 cups frozen hash brown potatoes (not thawed)
2 red fresno peppers, thinly sliced
6 oz extra-sharp cheddar or gruyere cheese, grated (about 1 1/2 cups)
2 cloves garlic, finely chopped
1 Tbsp fresh thyme leaves
1/2 small bunch kale or swiss chard (about 1/2 lb), thick stems removed, leaves chopped
mixed green salad, for serving
Directions:
1. Heat the oven to 400 degrees.  Heat the oil in a 9-in cast-iron skillet over medium heat.  Add the onion, season with 1/2 tsp salt and cook, covered, stirring occasionally, until tender, 8 to 10 minutes.
2. Meanwhile, in a large bowl, whisk together the eggs.  1/4 tsp salt and 1/2 tsp pepper.  Fold in the hash browns, peppers and all but 1/2 cup of the cheddar.
3. Stir the garlic and thyme into the onion and cook for 1 minute. Add the kale and cook, covered, tossing occasionally, until beginning to wilt, 2 to 3 minutes.
4. Transfer the egg mixture to the skillet and stir to distribute the ingredients.  Sprinkle with remaining 1/2 cup cheddar and bake until set, 20 to 25 minutes. (For a golden-brown top, broil for 1 to 2 minutes after baking) serve with salad, if desired.
Product Recommendations
The Skinnytaste Cookbook: Light on Calories, Big on Flavor
Get the recipes everyone is talking about in the debut cookbook from the wildly popular blog Skinnytaste
 
Gina Homolka is America's most tru... Read More >
Vegetable Spiralizer ~ Zucchini Spaghetti Pasta Maker ~ Fast Simple Spiral Noodle Cutter ~ 2 Blade Sizes ~ Recipe eBook & Cleaning Brush Included ~ Easy Cleaning & Storage ~ Healthy Diet ~ Eat More Veggies ~ Lifetime Guarantee
The Easiest Way To Replace Your Guilty, High-Carb Diet!
The SpiraLife Slicer Allows You To Enjoy Your Favorite Pasta Dishes Using Healthy, Vitamin... Read More >