Posted on June 24, 2014 by Grace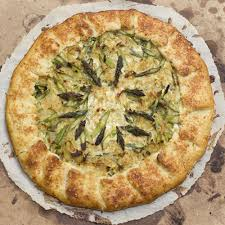 Active 10 min * Total 40 min * serves 4 * cost per serving 1.98 *
Ingredients
2 small yukon gold potatoes (about 8 oz.),verry thinly sliced

kosher salt and pepper

half medium red onion,thinly silced

4 oz. gruyere cheese, coarsly grated (about 1 cup)

8 oz. medium aspargus, cut diagonaly into 1-in. pieces

1 refrigerated rolled pie crust

1 Tbsp of olive oil

1 tbsp of dijon mustard

1 large egg
mixed green salad, for seving
Directions:
1. Heat the oven to 425 F. In a large bowl, Toss together the potatoes, onions, asparagus, olive oil, and one fourth tsp of salt and pepper. Add the Gruyer and toss to combine.
2. Working on a piece of parchment paper, roll the pie crust into a twelve inch. Circle. Slide the paper (and crust) onto a baking sheet. Spread the mustard on the crust leaving a 3 inch boarder around the edge
3. Spoon the potato aspargus mixture onto the pie crust leaving a 2 and a half  inch boarder around the edge. Fold the boarder over the mixture
4. In a small bowl whisk together the egg and 1 tbsp  water. Brush the crust whith the egg and bake untill the crust is golder brown and the vegstables are tender, 30 to 35 miniouts, (cover whith foil if browning to quickly). Transfer to your cutting board and cut into pieces, serve whith salad if desired
Product Recommendations
Clean Eating (1-year)
Clean Eating is a lifestyle approach to consuming food in its most natural state. Each issue is filled with a variety of delicious, wholesome, low-fat, and easily made recipes!
The Skinnytaste Cookbook: Light on Calories, Big on Flavor
Get the recipes everyone is talking about in the debut cookbook from the wildly popular blog Skinnytaste
 
Gina Homolka is America's most tru... Read More >