Dr. Oz Blueberry & Banana Smoothie
Enjoy Dr. Oz's tasty blueberry and and banana smoothie. This smoothie is delicious and healthy a great addition to your diet plan.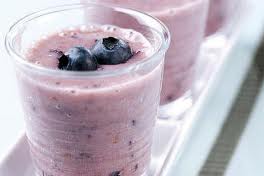 Ingredients:
1/2 Large Rip Banana
1/3 Cup Soy Protein
1/2 tbsp. Flaxseed Oil
1/4 Cup Frozen Blueberries
1/2 tbsp. Honey
1 tsp. Psyllium Husks
8 oz Water.
Directions:
Mix ingredients together and enjoy.
Need a highly effective blender to make your smoothies here is a great one.
Get ingredients for smoothie: