Dr. Oz Blueberry & Banana Smoothie
Enjoy Dr. Oz's tasty blueberry and and banana smoothie. This smoothie is delicious and healthy a great addition to your diet plan.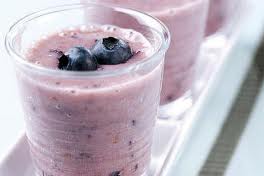 Ingredients:
1/2 Large Rip Banana
1/3 Cup Soy Protein
1/2 tbsp. Flaxseed Oil
1/4 Cup Frozen Blueberries
1/2 tbsp. Honey
1 tsp. Psyllium Husks
8 oz Water.
Directions:
Mix ingredients together and enjoy.
Need a highly effective blender to make your smoothies here is a great one.
Get ingredients for smoothie:
Related Products:
10-Day Green Smoothie Cleanse
The New York Times bestselling 10-Day Green Smoothie Cleanse will jump-start your weight loss, increase your energy level, clear your mind, and improv... Read More >
Green Smoothies for Life
A brand-new meal plan that will assist readers with incorporating green smoothies into their everyday routine while developing healthier long-term eat... Read More >
Zero Belly Smoothies: Lose up to 16 Pounds in 14 Days and Sip Your Way to A Lean & Healthy You!
NEW YORK TIMES BESTSELLER • Lose up to 16 Pounds in 14 Days with Zero Belly Smoothies!
 
Watch the pounds disappear—with the press of a b... Read More >