Posted on November 25, 2013 by alex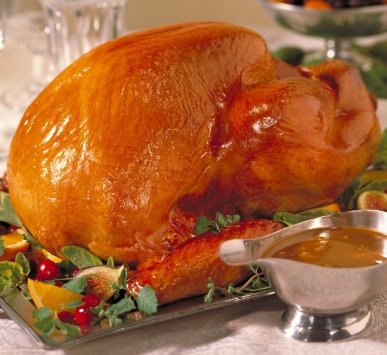 Roast turkey with Giblet gravy Recipe
True to its time, our first Thanksgiving menu calls for boiling the turkey not the best path to a beautiful bird. Here, the dry heat of roasting crisps the bird's skin while keeping the meat moist. Cooking the carrots and onions alongside the turkey intensifies the pan juices, making the giblet gravy taste even richer.
For a lighter alternative to gravy, try our French inspired Red Wine Jus.
Active time 35 minutes
Total time 4 hours
Makes 14 main-dish servings
Recipe tip:
If your're making the red wine jus variation, and you don't make the simple turkey stock, substitute lower-sodium chicken broth and discard the turkey giblets and neck.
Ingredients:
1 (14-to16-lb.) fresh or frozen (thawed) turkey, giblets and neck removed
1 lb. carrots, cut into 2-in. chunks
3 med. onions (6 to 8 oz. each), cut into 1-in. wedges
12 sprigs fresh thyme
1 tbsp. dried rosemary
Salt and pepper
Simple Turkey Stock (see recipe below)
1/2 cup all-purpose flour
Rosemary, lemon and bay leaves, and apples and pears, for garnish
1.Roast turkey:
Preheat oven to 325 . Rinse turkey inside and out with cold running water and drain well: pat dry with paper towels. Place turkey, breast side up, in large roasting pan. Fold wing tips under back of turkey. Scatter half of carrots, half of onions, and half of thyme in pan around turkey.
2. In small bowl, combine dried rosemary, 2 teaspoons salt, and 1 teaspoon freshly ground black pepper. Rub half of herb mixture inside body and neck cavities; rub remaining herb mixture all over outside of turkey.
Place remaining carrots, onions, and thyme in body and neck cavities. Fold neck skin under back of turkey; secure drumsticks together with band of skin, stuffing clamp, or kitchen string.
3. Cover turkey with loose tent of foil; roast 2 1/2 hours. Remove foil, and roast about 1 1/2 hours longer. Baste with pan drippings every 30 minutes.
Turkey is done when temperature on meat thermometer, inserted into thickest part of thigh next to body (not touching bone), reached 175 to 180 degrees and breast temperature reached 165 degrees. (internal temperature of turkey will rise 5 degrees to 10 degrees upon standing.)
4. When turkey is done, carefully lift from roasting pan and tilt slightly to allow juices to run into pan.
Place turkey on large platter; cover loosely with foil to keep warm.
5. Strain pan drippings through fine mesh sieve into 4-cup fat separator, liquid measuring cup, or large bowl. Let drippings stand 1 minute to allow fat to separate from meat juices.
Prepare gravy:
6. Reserve onions from pan; discard carrots and thyme. Spoon 1/4 cup turkey fat into pan; discard remaining fat. Add enough simple turkey stock to drippings to equal 6 cups total. finely chop reserved onions and giblets.
7. Place roasting pan over 2 burners on top of range. Add onions and giblets and cook on medium 2 minutes or until lightly browned, using wooden spoon to scrape up browned bits from pan. Add flour and cook 2 minutes, stirring constantly. Add reserved pan drippings and stock in slow, steady stream, stirring constantly. Heat to boiling on medium-high. Reduce heat to medium-low; simmer 13 minutes or until thickened, stirring frequently. makes about 6 cups gravy.
8. Garnish turkey platter with rosemary, lemon and bay leaves, and fruit, if you like. Pour gravy into gravy boat and serve with turkey.
Each serving turkey without skin or gravy:
about 310 calories, 54 g. of protein, 0 grams carbohydrate, 9 grams of fat (3 grams saturated), o grams fiber, 142 mg. cholesterol, 385 mg sodium.
Tip to Reduce Calories on Gravy:
Have one to two tablespoons of gravy this is OK . Be sure to use an actual tablespoon instead of using the spout of the gravy boat because you'll use less. It is very easy to load up on the calorie, we usually don't realize how quickly calories can add up when we pile it on, and start pouring gravy all over our plate. Gravy is mostly composed of fat and salt so we should use it in very small amounts.
Each serving gravy: about 75 calories, 2 grams of protein, 5 grams of fat, 5 grams of carbohydrate, 12 mg cholesterol, 115 mg sodium.
Roast Turkey with Red Wine Jus Recipe
Prepare Turkey as above, but omit flour and steps 6 and 7. Discard onions, carrots, and thyme from pan. In another measuring cup, measure enough simple turkey stock so that drippings plus stock equal 5 cups total. Place roasting pan over 2 burners on top of range. Cook remaining bits in pan 2 minutes on medium-high or until browned and crackling. Add 1 1/2 cups dry red wine (such as Beaujolais or Pinot Noir) and simmer 3 to 5 minutes on medium or until reduces by half, stirring and scraping up browned bits from pan. Add stock and return mixture to a simmer. Simmer 5 to 7 minutes or until reduces by a third. In cup, stir 2 tablespoons cornstarch and 2 tablespoons water until cornstarch dissolves. Stir drippings into pan and heat to simmering. Stir in cornstarch mixture and simmer 1 minute. Strain through fine-mesh sieve.
Makes about 5 cups jus.
Each Serving Red Wine Jus:
about 10 calories, o grams protein, 1 gram carbohydrate, o gram total fat, o grams fiber, 0 mg cholesterol, 45 mg sodium.
Simple Turkey Stock Recipe
Gravy whipped up with store-bought chicken broth is a time saver when time is tight, but Thanksgiving is the one time of year to by pass pre-made in favor of homemade. the full-bodied flavor of from scratch turkey stock, like the 1986 recipe we based this on, can't be compared to that of canned, and it almost cooks itself, let is slowly simmer while you prep the rest of the meal, then use as the base for our giblet gravy.
active time: 10 minutes total time: 1 hour 15 minutes Makes: 6 cups Ingredients:
6 cups of water
4 large stalks celery, coarsely chopped
1 large onion (10 to 12 oz.).
1 bay Leaf
Giblets and neck from (14-to 16 lb.) fresh or frozed (thawed) turkey, excluding liver
Salt
1. In 4-quart saucepan, place water, celery, onion, and bay leaf. Cover and heat to boiling on hig. Add giblets, neck, and 1/4 teaspoon salt. Reduce heat to medium-low. Cover and simmer 1 hour. 2. Strain stock through fine-mesh sieve into large bowl. Discard vegetable, reserving and refregerating giblets if making giblet gravy. Cover and refrigerate stock until ready to use, up to 3 days. Each 1/2 cup serving: about 15 calories, 1 gram of protein, o grams carbohydrate, 1 gram total fat (9 gram saturated), o grams fiber, 1 mg cholesterol, 80 mg sodium.
SnackMasters California Style Turkey Jerky, Original, 1-Ounce Packages (Pack of 12)
Hickory smoke flavor added. The original California. 98% Fat free. No preservatives. Ingredients are all natural (no artificial ingredients - minimall... Read More >
Campbell's Mushroom Gravy, 10.5 Ounce Cans (Pack of 24)
From America's classic soup company comes another way to nourish your family and your life. No matter what you're serving for dinner, we have a variety of delicious gravies to provide the perfect finishing touch and please your entire family.
Creative Bioscience 1234 Diet Drops, 2 Ounce
1234 diet drops are a dynamic diet supplement designed for rapid weight loss. It contains select amino acids and herbal extracts such as MACA, pygeum,... Read More >