Posted on December 09, 2013 by alex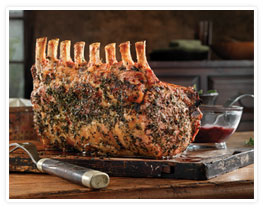 Here is a delicious meal made with herbs so you won't rack up calories this holiday. This recipe is great anytime you want to treat the family to a healthy meal. Herbs are the perfect way to help reduce calories for meals without giving up taste.
Herb Kissed Roast Pork
2 Tbs. each chopped garlic, fresh thyme, fresh sage and olive oil
2 tsp. salt
1/2 tsp. black pepper
1 pork crown roast (about 8 1/2 lbs.)
1 cup apple cider
1/2 Tbs. cornstarch
1. Heat oven to 350 degrees. In bowl, blend first 6 ingredients; rub evenly over pork. Place pork on rack set in roasting pan. Roast 2 hours or until inserted thermometer, not touching bone, read 155 degrees covering bones with foil after 30 min. transfer pork to platter.
2.Skin and discard fat from pan drippings. Place pan on 2 burners over medium high heat.
3. In bowl, mix last 3 ingredients; add to pan. Bring to a boil; cook 1 min. more or until thickened, whisking. serve gravy with pork.
Per serving: Calories 433, Chol. 90mg Total fat: 35g