Posted on February 21, 2011 by alex
This Guacamole Dip is a great low calorie Mexican treat that reduces belly fat! Have it as a snack or with a meal. It goes great with a chicken dish!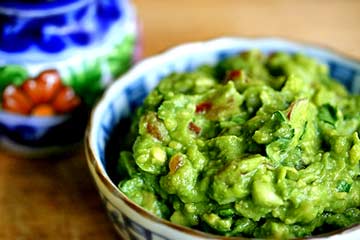 Guacamole Dip Recipe
INGREDIENTS:

2 hass avocados
2 tablespoons of chopped onions
2 tablespoons of chopped jalapenos
2 tablespoons of cilantro – fresh is best
1 to 2 tablespoons of sea salt
2 tablespoons of lime juice
1 tomato chopped
DIRECTIONS:
Cut avocados, remove the pits and take off the skin
Mash avocados, and add in onions, jalapenos, cilantro and salt and mix together.
Add lime juice and then tomatoes, and refrigerate for about 2 hour and it is ready to eat.
tip – to keep Guacamole dip from turning brown place the pit in the dip.
Hope you like this recipe! It is really refreshing with all the delightful vegetables and herbs.
Have your heard of MUFA? It is an acronym for monounsaturated fatty acids that has recently been studied, and has been shown to reduce belly fat when you incorporate small portions of MUFA into every meal.

This is a tasty low calorie guacamole dip recipe  includes monounsaturated fatty acids, refer to a  MUFA, that you can include in your diet and reduce belly fat! get more information on MUFAs.

More Diet Tips and Tools:
More Diet Articles to support your weight loss goals:
Healthy Holiday Gifts – give the gift of life.
Skechers now has Boots, so you can even lose weight and get into shape during the winter months, don't let the winter get you down. Get slimmer with the Skechers Shape up boots at 30% Off Shape-Up Boots From SKECHERS!
SKECHERS Clothing 50% Off + FREE Ship and No Tax! Code: APPAREL50! Hurry, this offer wont last forever!
Workout tips to burn more calories
Including an exercise program to your diet will help you lose more weight and get into shape.