Posted on April 03, 2014 by Grace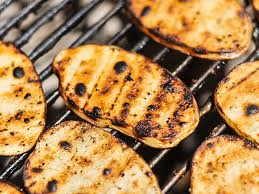 A creamy mustard and fresh herb dressing lightly coats tender gourmet potatoes in this new take on potato salad!
3 tbs. fingerling potatoes such as red Russian, Yubon gold or any thin skinned new potato
Ingredients:
3 lbs. fingerling potatoes such as red Russian, Yukon gold or any thin-skinned new potato
1/2 cup + 2 Tbs. white wine Olive oil
1/2 cup mayonnaise
1 Tbs. whole grain mustard
2 tbs. minced fresh Italian parsley
2 Tbs. minced fresh tarragon salt and ground pepper
Directions:
Bring pot 3/4 full of salted water to a boil. Add potatoes; return to a boil. Cover: reduce heat to medium-high; Parboil until potatoes can be pierced with tip of knife but are not completely tender. about 10 munitues.
In large bowl, combine warm potatoes and 1/2 cup wine: toss to coat. Cool to room temperature, tossing often, about 30 minutes. Cut potatoes in half length-wise; in bowl, toss with oil.
In separate large bowl, stir together mayonnaise, mustard, parsley, tarragon and remaining 2 Tbs. wine; let stand 10 minutes.
Prepare grill for direct grilling over medium-high heat. Brush and oil grill grate or vegetable grilling basket. Arrange potatoes on grill grate or in basket over medium-high heat. Grill, turning once, until grill marks appear, about 5 minutes per side.
Transfer grilled potatoes to large bowl with dressing; toss to coat. Taste and adjust seasoning with salt and pepper. Serve or cover tightly and refrigerate for 1 hour.
Servings: 8 Per Serving: Calories 274g., Protein: 4g., Fat: 15g., Fiber 2g.
Product Recommendations
The Skinnytaste Cookbook: Light on Calories, Big on Flavor
Get the recipes everyone is talking about in the debut cookbook from the wildly popular blog Skinnytaste
 
Gina Homolka is America's most tru... Read More >
Clean Eating (1-year)
Clean Eating is a lifestyle approach to consuming food in its most natural state. Each issue is filled with a variety of delicious, wholesome, low-fat, and easily made recipes!