Posted on April 03, 2014 by Grace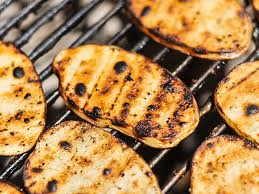 A creamy mustard and fresh herb dressing lightly coats tender gourmet potatoes in this new take on potato salad!
3 tbs. fingerling potatoes such as red Russian, Yubon gold or any thin skinned new potato
Ingredients:
3 lbs. fingerling potatoes such as red Russian, Yukon gold or any thin-skinned new potato
1/2 cup + 2 Tbs. white wine Olive oil
1/2 cup mayonnaise
1 Tbs. whole grain mustard
2 tbs. minced fresh Italian parsley
2 Tbs. minced fresh tarragon salt and ground pepper
Directions:
Bring pot 3/4 full of salted water to a boil. Add potatoes; return to a boil. Cover: reduce heat to medium-high; Parboil until potatoes can be pierced with tip of knife but are not completely tender. about 10 munitues.
In large bowl, combine warm potatoes and 1/2 cup wine: toss to coat. Cool to room temperature, tossing often, about 30 minutes. Cut potatoes in half length-wise; in bowl, toss with oil.
In separate large bowl, stir together mayonnaise, mustard, parsley, tarragon and remaining 2 Tbs. wine; let stand 10 minutes.
Prepare grill for direct grilling over medium-high heat. Brush and oil grill grate or vegetable grilling basket. Arrange potatoes on grill grate or in basket over medium-high heat. Grill, turning once, until grill marks appear, about 5 minutes per side.
Transfer grilled potatoes to large bowl with dressing; toss to coat. Taste and adjust seasoning with salt and pepper. Serve or cover tightly and refrigerate for 1 hour.
Servings: 8 Per Serving: Calories 274g., Protein: 4g., Fat: 15g., Fiber 2g.
Product Recommendations
Clean Eating (1-year)
Clean Eating is a lifestyle approach to consuming food in its most natural state. Each issue is filled with a variety of delicious, wholesome, low-fat, and easily made recipes!
Naturo Sciences Garcinia Cambogia Extract - Pure 75% HCA - Ultra Slim Weight Management - Natural Appetite Suppressant and Weight Loss Supplement - Lose Belly Fat Fast - Read Below and Learn How to Naturally Lose Weight Without Feeling Like You're on a Diet - 1000mg Per Serving, 30 Servings, 90 Capsules
It's Hard to Feel Fit and Skinny These Days..
The frantic pace of today's lifestyle does very little to support maintaining a healthy weight.... Read More >