Posted on July 07, 2013 by alex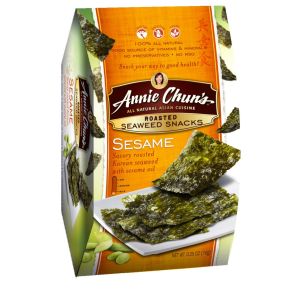 Seaweed Roasted Wasabi Annie Chun's
Are you looking for a healthy snack that is low in calories but really tasty? Well then seaweed roasted wasabi could be a great snack for you. These are delicious and full of flavor. They are very light and only 30 calories for 1 serving (half the package). These are very light and flaky I wouldn't say crispy, exactly. They disintegrate as soon as they hit the moisture in your mouth, much like cotton candy does. They have a nice wasabi flavor, strong, but not so hot that it would prevent you from just downing the whole package at once. If you happen to take a breath when putting one in your mouth, watch out because you will get a wasabi attack in your nostrils. If you've ever had a little too much wasabi on your sushi, you'll know what I mean. They are especially great when your craving a small, salty snack. And are great with a sandwich like grill cheese or turkey. They are the next best thing to chips but without the high fat and calories. These are so tasty and the only bad thing about them is that when I eat them, I crave sushi. These are very appetizing and I would recommend that you buy a single package first if you've never tried them. If you've had nori snacks before and like the kick that wasabi gives you, you won't be disappointed in these. These are amazing.
Product Recommendations
Hill's Science Diet Adult Cranberry and Oatmeal Fruity Snack Dog Treat, 8.8-Ounce Bag
Hill's Science Diet Ideal Balance Fruity Snacks with Cranberries and Oatmeal dog treats are delicious, all-natural treats made from only the best ingr... Read More >
SlimFast Snack Bars, Chocolate Mint, 6 Count
Our rich, delicious Slim·Fast Snack Bars are treats you can have whenever you're in the mood for something sweet. At 100 calories apiece, Slim·Fast Snack Bars fit right in as a daily snack in the Slim Fast Plan. Lose weight now.