Diet Breakfast Tips, Tools & Recipes
Good Morning - Start you Day Healthy!
Breakfast is the most important meal of the Day, because it gives us the energy & fuel to get us going in the morning! And Since breakfast is the first meal of the day chances are that this is the meal that we will burn off these calories, so don't skimp on your breakfast. Unfortunately most of us of have a busy schedule and getting out in the morning is a mad rush. You are rushed to get ready for work, take care of the kids and still get out the door on-time, usually without  breakfast. So perhaps you grab a bagel and cream cheese,  a muffin, or breakfast sandwich, but, when it comes to being healthy, none of these options is a great way to start your day. So here are easy ways lose the weight, get healthy and still enjoy breakfast.
Lose Weight with Yummy Recipes!
Join the Breakfast Club - Lose Weight & Getting Healthy
Your breakfast should typically be between 20-25% of your total day's caloric intake. Did you find out your daily calorie intake while you were in the kitchen? If not to go to the kitchen to the daily calorie calculator. This daily calorie calculator will calculate the number of daily calories you are required daily to start losing weight. This calculation is call your body's BMR.
For example, if one person calorie intake (BMR). This person weighs 150 pounds, 35 years old, 5 ft. 4 inches, little to no exercise their calorie intake to maintain your current weight is 1593. And to lose one pound this person needs to cut 500 calories per day from 1593 to 1093. So if this person is looking to lose one pound their calorie intake of 1,093 and 25% of that is 273 calories. This 273 calories is what this person at 150 pounds need to consume for breakfast. 
Do you need help?
contact us
The best way to lose weight or maintain your weight is to eat a well balanced meal that is also healthy. You can achieve this by creating a meal that includes 50 percent good carbohydrates , 30 percent protein, and 20 percent good fat such as olive oil. Stay away from the so-called bad carbohydrates: sugars, refined grains and starches this is what puts on the pounds. The best way to lose weight is a well balance meal the includes; good carbohydrates, protein and good fat. So broken out below is an easy to follow list broken out by category (carbohydrates, protein & fat) along with some easy to prepare breakfast suggestions. Look to see what you like and what works best for you. The most popular breakfast is the egg with tomatoes and herbes, it's taste great, it's healthy and easy to make.
Healthy Diet Breakfast Carbohydrates Calories
Get the Scoop on the Best Low Calorie Breakfast Foods.Carbs Proteins.

WHOLE WHEAT BREAD
Look out for ingredient lists that say "enriched wheat flour" this is not whole wheat. Be sure the ingredient label specifies "Whole Wheat". A lot of brands try to fool the consumer with enriched wheat flour which is the bad carbohydrates. Beneficial ingredients in whole grains include lignans (a phytoestrogen), dietary fiber, and antioxidants. On a per-serving basis, whole-grain products have similar antioxidant activity to that of vegetables and fruits.( 2 slices = 140 cal ).

WHOLE WHEAT ENGLISH MUFFIN:
Look out for ingredient lists that say "enriched wheat flour" this is not whole wheat. Be sure the ingredient label specifies "Whole Wheat". A lot of product try and fool the consume with enriched wheat flour which is the bad carbohydrates. ( 1 english muffin = 120 calories )

YOGURT:
Soy yogurt is a great choice! Soy has advantages: It has virtually no saturated fat, it may help lower cholesterol levels, and some brands -- like Silk and Whole Soy -- are made from organic soybeans. (1 cup of soy yogurt = 150 cal ).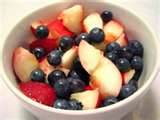 FRUIT:
Berries are a great breakfast choice because they are full of antioxidants. Black berries, blue berries and red raspberries are a great source of antioxidants and high in fiber. Black berries have and red raspberries about 8 grams of fiber. ( 1/2 cup of Mixed Berries= 50 calories).

HIGH FIBER CEREALS:
In the Nurses' Health Study, those consuming whole grains regularly weighed less on average, and those with the highest rates of dietary fiber intake lowered their risk of major weight gain by 49% . Look for cereals with a least 4 grams of fiber.(1/2 cup of Cereal w/ 1/2 cup of soy milk = 100 calories.)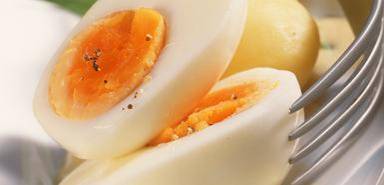 EGGS:
Eggs are a great source of protein. fried or hard boiled they taste great. But hard boiled eggs are easy and convenient, just boil about 7-10 eggs about 10 mins and you now have a quick breakfast choice for the hole week.Eggs are low in calories, about 70 calories an egg, all you need is one with a slice and wheat bread with a little butter and it really fills you up. ( 1 Egg = 60 Calories ).

NUTS:
Purchase a bag of Almonds and eat about a 12 a day. They are all natural, a good source of protein and antioxidants
( 1 Cup of Nuts = 142 Calories ).


TURKEY BACON:

Turkey Bacon is one third the calories and it taste great.
( 4 Slices of Turkey Bacon = 85 Calories ).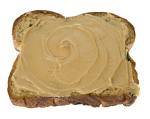 PEANUT BUTTER:
A teaspoon of peanut butter on a slice of whole wheat bread is a great healthy low calorie choice for breakfast.
( 1Tbs. all Natural Peanut Butter = 95 Calories).

Cheese:
Cheddar cheese is great with a sliced apple. It is about 85 calories a slice so don't eat too much. Look for the low fat cheese with either 2% or 1% fat it is about half the calories.
( 1 Slice of Cheddar Cheese = 85 Calories. (1 Slice of Low Fat = 45 Calories).
copyright @ shrinktheplanet Weightloss.com - Designed by ecommercebusinessdevelopment.com